Fantastic adventure
Once a lifetime experience.
Experienced pilots
The best professionals in the world of skydiving.
Ultimate packages
All inclusive prices with no hidden costs.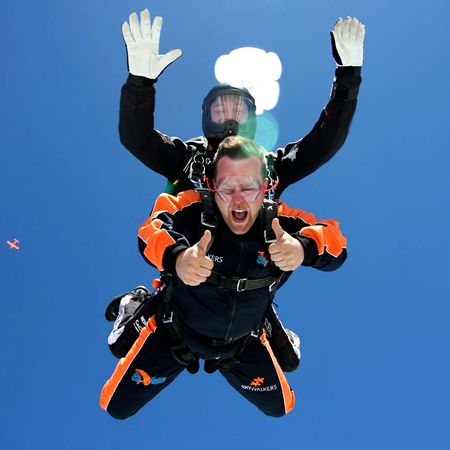 from €184
It only takes 2 minutes to book
Confirmation within 15 minutes
Book now to secure your spot
What is included
Instructor • English speaking tandem instructor
Briefing • safety briefing and training with simulation of the jump
Equipment • skydiving suit, helmet, protective goggles
Flight • 15-minute sightseeing flight
Tandem jump • from 4,200 m (14,000 ft)
Free fall • 1-minute free falling at 200 km/h (125 mi/h)
Parachuting • 6-minute cruising the sky with an open parachute
Recording • optional choice of photos & videos of your jump and selfie video
Both-way transfer • in an air-conditioned van from & to our office in Prague's centre
Pick-up & drop-off • from & to your hotel, available for groups of 4 or more
I have tried sky diving today. The view from top was amazing. Every penny was worth it.

Skydiving in Prague is highly recomended. A dream come true.

It was a great experience. I would recommend everyone to have a lifetime experience with Magical Prague. Totally mean it!!!

Awesome experience...had loads of fun......will do it again sometime soon.... thanks a lot for making it possible

Top marks. This is how customer service is done correctly. Thanks to all staff I dealt with.

Totally an amazing experience of life. Truly had a life time memorable experience.

We did skydiving and gun shooting, both experiences were really amazing.

once in a lifetime experience, very exciting, adrenaline rush

Excellent! Good email communication beforehand. Friendly staff and sky diving and shooting activities were really fun.

It was a great experience.That 5 minute of adventure explained to me how worthy and beautiful the life can be. Great job guys!! :)
3 Skydiving packages
Gift • Boat & bus tour, Beer crawl or Dinner in value of €25
Gift • Boat & bus tour, Beer crawl or Dinner in value of €25
Photos, video & selfie video
Gift • Boat & bus tour, Beer crawl or Dinner in value of €25
When & where
Apr–Oct: pick-up available daily from 8 AM to 4 PM
Most Airport, 75-minute ride from the centre of Prague
5 hours total (from pick-up to drop-off)
Very professional people and very friendly. I will do it again in my next trip to Prague.

I'm profoundly deaf and the 2 chaps were excellent and made everything really easy for me to understand. I will return again next year.

If you're visiting Prague these activities are a must!

everything was well organized. good service we had a great day

Good communication and arrangements with the people of Magical Prague.

Must do activity if you are visiting Prague. Really a great experience in my life.

Great afternoon out, very friendly people

Very good experience with a professional instructor. Nice People too.

👍😊

.

Very professional and friendly, truly recommend their activities.
What to expect
This is a world-class skydiving centre, with a perfect safety record and very friendly customer service.
Imagine the rising level of adrenaline during the flight, the excitement of jumping from 4.200 m (14,000 ft), the beauty of a free fall at 200 km/hr (125 mi/h), the bit of a shiver while opening the parachute, the wonderful feeling of floating back to earth, and the soft landing at the end.
This adventure begins with expert instruction followed by a jump from an airplane. You will be hooked to an experienced, professional tandem pilot with a special harness.
Your tandem pilot will explain everything you need to know during the briefing after which you will put on the jumpsuit, protective goggles and a special tandem harness.
Next you and your tandem pilot will board the aircraft which will climb in a given altitude necessary for the jump, the sightseeing flight takes 15–20 minutes. During the climbing up your tandem pilot will connect your harness to his and after reaching the correct altitude you will both exit the aircraft.
You will jump from 4.200 m AGL (14.000 ft) and will be enjoying approx. 1 minute of the free fall at the speed of 200km/h (125 mi/h). At 1.500 m (5.000 ft) your tandem pilot will open the parachute and you will fly for 6–8 minutes on the canopy, which you can try to steer. Before the landing your tandem pilot will take over the steering and land you softly and safely back onto the ground.
After the landing is a tandem jump certificate and an original tandem jump t-shirt issued by us. You can then cherish that unforgettable memory.
Pick-up in Prague
Your driver picks you up at our office in the street Dlouha 6, Prague 1. If you are a group of 4 or more people, he picks you up on your preferred address in Prague.
Transfer

1 hour and 15 minutes

Enjoy a comfortable ride in an air-conditioned minibus to the skydive drop zone.
Gear

10 minutes

Take on the skydiving suit, helmet and protective goggles.
Instructions

15 minutes

Your English-speaking tandem pilot learns you the safety rules.
Flight

20 minutes

Seek the beautiful views during the sightseeing flight before your tandem jump.
Jump

10 minutes

Time for some real adrenalin!
Celebration
Get your honest skydive diploma and a skydive T-shirt as a nice memory.
Transfer back

1 hour and 15 minutes

Your driver takes you back to our office in the street Dlouha 6, Prague 1. If you are a group of 4 or more people, he drops you off on your preferred address in Prague.
Drop-off in Prague
Enjoy the rest of your day in our magical city.
Notes
Make sure to wear comfortable clothes and tight shoes. The weight limit for the jump is 40–110kg (88–243lb).
75 customer reviews
For our weekend in Prague we trusted Magical Prague. We returned to France with beautiful memories. Thank you to your team !!

Perfect! The van arrived basically on time and it took the exact time to get there as we were informed.

We've had such a good day! I'd recommend to anyone thinking of booking!

From the start to the end of our day, myself and my husband felt like we were special we were looked after amazingly.

Martina and Evzen could not be nicer and accommodating with our experience.

I would highly recommend this to anyone who visits Prague in the winter.

Thanks a lot for your arrangement and it was amazing experience.

We definitely enjoyed it. You must try it as well.

The whole process was easy as we were picked up and dropped off at our flat and everything was well organised.
More about Skydiving - Tandem jumps Prague
You don't need any course or a medical check up, you will receive a short, easy to understand, briefing before the jump and then you will be able to experience the same as a skydiver does.