Adrenaline game
Action and fun.
Free pick-up & drop-off
Transfers from your hotel to the venue and back.
Great place
Close to the city centre.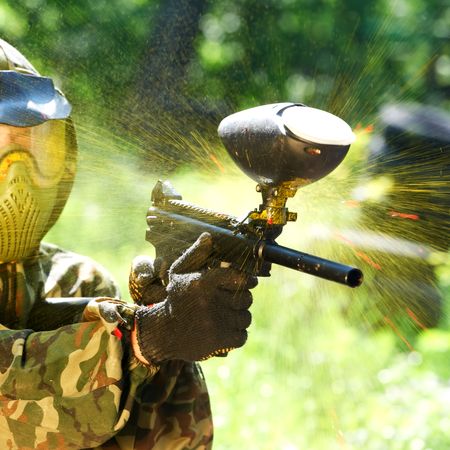 from €29
It only takes 2 minutes to book
Confirmation within 15 minutes
Book now to secure your spot
What is included
Equipment • special overall, protective face mask, gloves, paintball gun, ammo
Instructor • the constant presence of an English speaking professional
Briefing • learn safety and proper paintball gun handling
Paintball game • up to 4 hours play time
Refreshment • mineral water
Pick-up & drop-off • on your preferred address
Both-way transfer • in an air-conditioned minibus
Definitely would recommend.

Overall fantastic experience!

Fantastic staff, really helpful. Brilliant day, would highly recommend for a memorable experience.

Very easy to setup events and a lot of fun. Thanks to Kate, Sam, Patrick and Mathew for an awesome day in praha.

Friendly and professional instructors. Loved it. Totally recommended.

Great experience and would definitely go again if visiting Prague!

It was a great experience. I highly recommend them because they deliver great services.

Very good experience with a professional instructor. Nice People too.

👍😊

.

Everything was well organized. Good service, we had a great day.
3 Paintball Prague packages
Ammo • 100 paintball bullets
Ammo • 200 paintball bullets
Ammo • 300 paintball bullets
When & where
All year round: pick-up available daily from 8 AM to 7 PM
Prague, 20-minute ride from the centre
3–4 hours total (from pick-up to drop-off)
Great professional team and loads of fun!

Great experience and amazing people!

Amazing experience. Would love to do it again. Brilliant day!

Easy to book and great communication at all points.

Overall it was a great experience with competent instructors and a welcoming environment.

Everything is taking care of for you and the entire day is completely stress free.

Excellent! Good email communication beforehand.

Pick up from hotel in very nice car by good driver. AWESOME!

Great experience! I highly recommend it!

I've put down the deposit and the mini van was outside after an hour
Description
Paintball is a game full of adventure and adrenalin where the ability to make good, quick decisions is as important as your physical condition.
In paintball, skills and luck alone are not enough to win the game - winning requires good team work. Above all, however, paintball is FUN! Our paintball fields are specially designed with rough terrains, bunkers, foxholes, rooms, hallways, corridors and other challenges. The paintball area consists from the outdoor and from the indoor part, 6,500 m2 (21,000 ft2) indoor industrial hall complex and 10,000 m2 (33,000 ft2) outdoor playground. It is possible also play in the night on the 2,500 m2 (8,200 ft2) illuminated area.
Pick-up in Prague
Your driver picks you up at any address in Prague you choose.
Transfer

20 minutes

Enjoy a short, comfortable ride in an air-conditioned minibus to the paintball playground.
Instructions

10 minutes

Your English speaking instructor gives you the safety briefing and learns you the paintball games scenarios.
Gear
Take on the paintball suit, face mask and gloves and get your paintball gun with ammunition.
Game

1–3 hours

It's time for the real paintball action!
Transfer back

20 minutes

Your driver takes you back to your chosen address or to another Magical Prague experience.
Drop-off in Prague
Enjoy the rest of your day in our magical city.
Notes
Wear sport clothes and tight shoes. The price for another 100 balls is €8 / CZK 200.
58 customer reviews

Wonderful experience and an extremely helpful instructor!


Great experience and equally great instructor.


It was a great experience, very professional as well as personalised at the same time. Would strongly recommend.


i had such a good time!! i would love to do it again with you guys


Had a brilliant time most defiantly would recommend
More about Paintball Prague
The professional instructor of playing paintball will advise you about the many different options of playing this exhilarating game, like scenario games death match, team death match, tournaments, capture the flag, gaining the property, escort of the VIP, defence of the territory and much more. Prepared for you is the special clothing, the best quality equipment and services for an unlimited number of players.