Only 1hr from Prague
Fantastic trip for beginners & experienced.
Free pick-up & drop-off
Transfers from your hotel to the ski resort and back.
All inclusive trips
Complete gear, clothes, ski pass, instructors & lunch.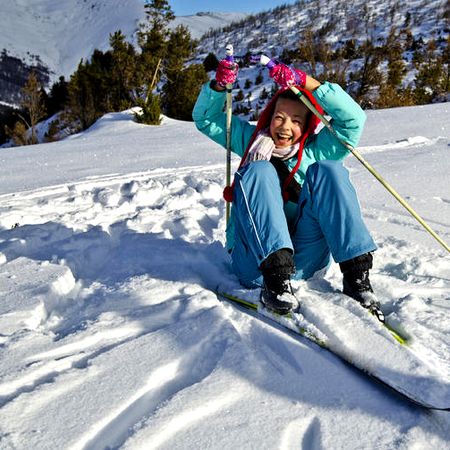 from CZK 5,200 / €210
It only takes 2 minutes to book
Confirmation within 15 minutes
Book now to secure your spot
What is included
Pick-up & drop-off • from & to your hotel in Prague
Both-way transfer • in a heated minibus
Ski pass • ski school area for beginners, or all slopes for experienced
Instructor • English speaking teacher for beginners (not included in programs for experienced - included in programs for beginners only)
Lunch or dinner • with a drink
Skiing gear • ski, ski poles, boots, helmet, goggles, gloves, skiing pants, and jacket
Snowboarding gear • snowboard, boots, helmet, goggles, gloves, snowboarding pants, and jacket
We went to ski in Jested and was worth every penny! Highly recommend.

Great trip to Jested. Great day all around! Would definitely recommend.

Amazing ski session organised with Magical Prague.

It was an amazing trip, my family enjoyed it very much. The instructors were great.

My fiancee and I had a wonderful Christmas Day on the mountain. Thank you very much for your hospitality.

Everything from customer service all the way to skiing ⛷ and lunch was perfect.

Very nice ski experience to Jested!

Bob and Martina was a great! Strongly recommends to choose a ski trip for beginners with Martina and Bob

Had an amazing experience in the ski school in Moninec. We all enjoyed it a lot and the instructors were great.

Fantastic day trip and great value for money. Well recommended.
9 Skiing & Snowboarding Prague packages
When & where
Dec–Mar: pick-up available daily from 7 AM to 2 PM
Ski Resort Moninec, Ski Resort Jested, or Ski Resort Spindleruv Mlyn
7–14 hours total (from pick-up to drop-off)
The ski area of Jested is beautiful and the resort has lovely ski runs, perfect for the beginners and advanced.

It was a great experience. I would recommend everyone to have a lifetime experience with Magical Prague. Totally mean it!!!

We went shooting and Go-Karting, everything was organized really, really well.

A fantastic experience, at a competitive price.

Very nice ski experience to Jested!

Brilliant! Well done! Booked 2 trips, skiing and shooting.

It was a great trip where I could practice the basics of skiing, have a great beer and eat the typical Czech food.

Thanks for a brilliant day skiing/boarding! ⛷

We had a great day out skiing. Great tour and team. Definitely would recommend.

The tour was run so smoothly and had an excellent lesson with an instructor each! Highly recommend.
Description
Boundless fun in the snow… Professional instructors for beginners and a good choice of easy slopes to begin with. A vast choice of tough slopes for experienced skiers & snowboarders.
Come with us to the stunning Jizera mountains, located in the beautiful country of the Czech Republic, and spend the day at the Jested ski resort, a paradise perfect for those who are enthusiastic about skiing, snowboarding, or cross-country skiing.
In this welcoming Czech winter sports resort, you will find a terrain that is suitable for everyone. Whether you are a beginner or an experienced skier or snowboarder, a family with children, a group of friends, or a single traveler, Jested is the perfect place to spend the day in the snow.
Pick-up in Prague
Your driver picks you up at your chosen address.
Ride to Ski resort

1 hour and 15 minutes–1.5 hours

Admire the views of the Czech countryside during the comfortable ride in a heated minibus.
Choice of gear

20 minutes

You are assisted with the choice of skis or snowboard and the complete gear.
Hit the slopes

3–4 hours

The non-experienced ones are taken up by a professional instructor from the local ski school, who teach them the basics of skiing or snowboarding. The experienced ones get the ski pass and the map of the whole skiing area and may jump right into the snow adventure.
Lunch

1 hour

Enjoy the well earned delicious lunch in a traditional Czech restaurant.
Transfer back

1 hour and 15 minutes–1.5 hours

Your driver takes you back to Prague to your chosen address.
Drop-off in Prague
Enjoy the rest of your day in our magical city.
Notes
Take some warm clothes, gloves, and a hat!
139 customer reviews


Amazing ski session organised with Magical Prague. Driver picked me up on time who was such a nice guy. Lunch was anything off the menu which was great for me being vegetarian and the ski session was fantastic.


I booked the ski/snowboarding package for 7 of us out in Prague celebrating my friends 30th birthday. I have to say this was one of the best things we did. It was easy to book and great communication at all points. We were picked up directly outside our airbnb flat on the exact minute that they said they would pick us up. Everyone was really nice with plenty of laughs and jokes throughout. We were all very much beginners and really appreciated the patient approach but also still moved us on at a good rate to get us to a point we were comfortable to go down the slopes on our own. Even after our lesson time was over they still gave us great tips and at points joined us going down the slopes. The meal afterwards was also very good. Honestly you can't ask for anything better, book yourselves in for this! Thank you to everyone at Magical Prague


Amazing! Got our skiing trip cancelled by other company and "magical Prague " responded within hours and confirmed a last min booking for a skiing trip. I've put down the deposit and the mini van was outside after an hour to take us skiing best day ever and amazing service


We were a group of 24 guys having a weekend in Prague. The organisation was made much simplar by the people at magical Prague. Everyone was very friendly and helpful. Nothing was too much trouble for them! We did the skiing and the shooting. Both went off without a hitch, everyone had an amazing time! Thank you Kate, Vlad and everyone else!
More about Skiing & Snowboarding Prague
Jested ski resort is located in northern Bohemia on the outskirts of the city of Liberec, situated 100 km north of Prague, the capital city of the Czech Republic.